BIG NEWS!!
Crazy Patchwork Techniques  (aka Lily's Flowers) is an iquilt video class now!
Click on the iquilt logo to go directly to my class!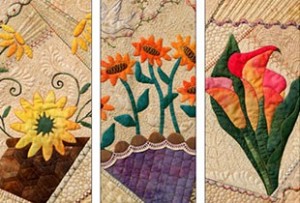 Stitch a beautiful spring garden! Gather your lace, beautiful threads, and luscious fabrics for an incredible patchwork experience. There are no rules! You just create! Learn four different types of applique, beading, and a dozen embroidery stitches as you enjoy nine downloadable block patterns plus a border pattern only available with the purchase of Crazy Patchwork Techniques online class.
 American Quilter's Society has also published my newest applique pattern, Hummingbirds & Friends. This is a beautifully produced pattern and available here.
My website is the place to find great patterns with lots of inspiration and step-by-step directions to complete the project you choose. I design appliqué, embroidery, crazy patchwork and traditional quilt patterns. "Alice's Choice" needles, tools and notions are also available. I have digital patterns as well. Texas Our Texas, Birds in Full View, Christmas Tree Skirt, and Crazy Patchwork Extravaganza: Fancy Flowers. You can have your pattern instantly and save on postage.
I am also very pleased to represent a line of hand-dyed fabric by textile artist Debra Linker. These are also found in the Products section.
I welcome Wholesale orders. Please contact me to inquire further about pricing, limits, and availability.
Happy Quilting!
— Alice