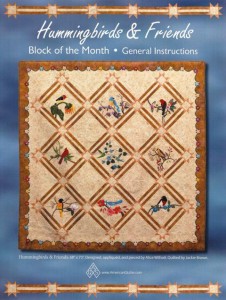 Hummingbirds & Friends – 68″ x 73″ – $69.95

This pattern is beautifully produced by American Quilter's Society. There are nine bird blocks to applique and four alternate blocks to show off your beautiful quilting stitches while stitching the bird motif that is included in pattern. Fully illustrated with complete instructions.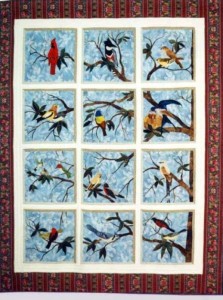 Birds in Full View – Digital Pattern – – $30
Receive this 65 page fully illustrated pattern in your inbox within minutes! Print pattern pages as you need them. You must be able to open and print a PDF file. You will receive an email with a one-time link upon completion of your order.

Wild Iris – 16″ x 25″ – $10
Display your garden inside your home with this lovely wall hanging.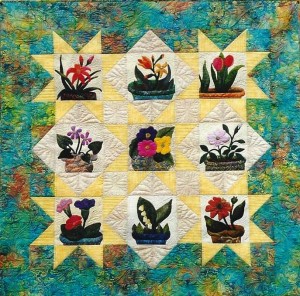 Container Garden –  50″ x 50″ – $10
This nine block wall hanging has simple applique of plants in containers.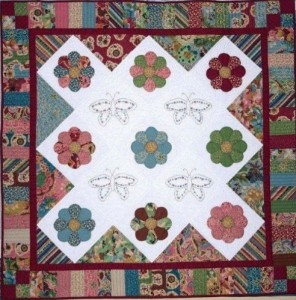 Dresden Plate & Butterflies – 46″ x 46″ – $10
This entire wall hanging (front, back and binding) was made using one "layer cake", 1  1/2 yard background and 2 yards of accent fabric. Includes embroidery, applique and piecing.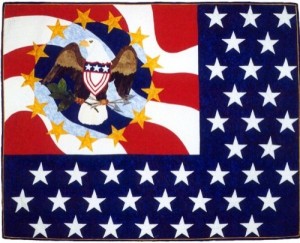 Flag Day –  68″ x 54″ – $10
Flag Day pattern is retiring. There are only a few patterns left. This quilt pattern shows patriotism at its finest. Full size applique in pattern.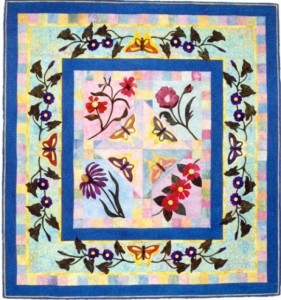 Touch of Spring – 55″ x 59″ – $10
This colorful wall hanging is as pretty as springtime itself with soft pastel patchwork background, flowers and butterflies as center medallions.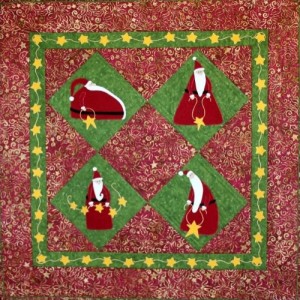 Folksy Santas – 36″ x 36″ – $10
This is a great wool applique project. These whimsical Santa's are perfect to display in your home at Christmas or all year long. Original Santa designs by Debra Linker.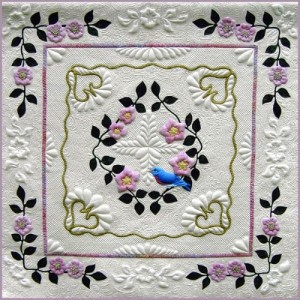 Morning Celebration – 44″ x 44″ – $10
What a beautiful way to focus on applique plus open space for hand or machine quilting. Full size applique pattern included.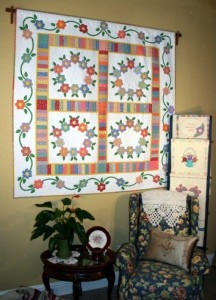 Ring Around the Posy – 62″ x 62″ – $12
This quilt can be a comfortable sofa quilt or add two more flower blocks with sashing and have a perfect fit for a double bed. Pattern also includes a package of 3/4″ hexagons for English Paper Piecing Technique.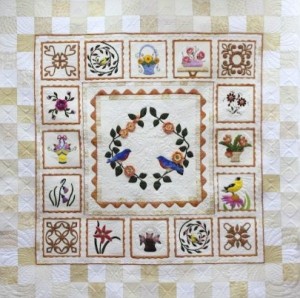 Springtime in the Garden – 70″ x 70″ – $50
This pattern is full of applique techniques. You'll learn more than 12 different techniques while making this beauty.  A 4 disc DVD set is also available which that takes you through making the entire quilt with wonderful up-close demonstrations.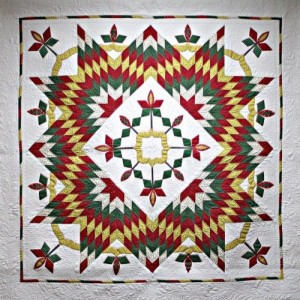 Summer Star – $!0
Stripped pieced Lone Star with fused applique in center and around the Star. Instead of applique, the design could be quilted.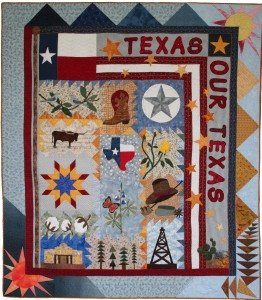 Texas Our Texas – 68″ x 78″ – $72
This memorable quilt consists of 12 patterns. In each of the patterns there are many different piecing, applique, and embroidery techniques with detailed, easy to follow instructions. Patterns also have Texas folk lore, facts, recipes and "talkin' Texan" lessons.
Water Lily – 18″ x 26″ – $10
Beautiful water lily appliqued to pieced background.

Wildflowers – 56″ x 68″ – $10
Wildflower pattern is retiring. There are only a few left and will not be reprinted. This 9 block applique pattern includes instructions for assembling the blocks to give a "whole-cloth" applique look. Full size applique pattern included.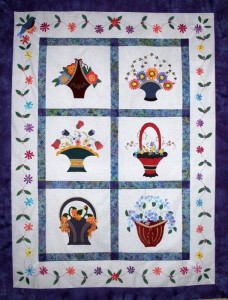 Wool Baskets & Silk Ribbon – 42″ x 56″ – $15
This wall hanging was especially designed for wool and silk ribbon just for you wool lovers.