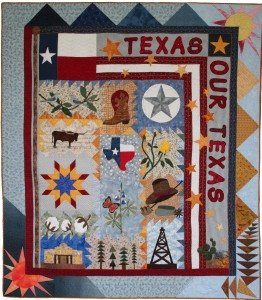 Texas Our Texas – 68″ x 78″ – $72
This memorable quilt consists of 12 patterns. In each of the patterns there are many different piecing, applique, and embroidery techniques with detailed, easy to follow instructions. Patterns also have Texas folk lore, facts, recipes and "talkin' Texan" lessons.

Summertime Memories – $20
What great summer memories you'll have while making this bright and happy quilt. The blocks are traditional Dresden Plates with a big twist! The centers are 7″ embroidered circles. This is a scrappy quilt at its best! The size is 56″ x 56″. This pattern is also available in digital format by clicking here.
 
Christmas Tree Skirt – 72″ wide – $10
A beautiful "quilt as you go" tree skirt. The pattern will explain how to make the skirt smaller. Fast and Fun project.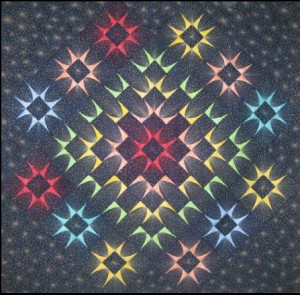 Fireworks – 66″ x 66″ – $10
Enjoy the 4th of July all year round with this great Fireworks quilt. Easy curved piecing. This Fireworks quilt is so easy and fun to piece. Looks hard to make but in fact is very easy.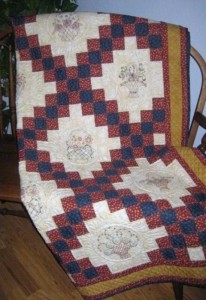 Irish Chain & Pretty Baskets –  58″ x 78″ – $20
A perfect project to satisfy the quilter who is both a machine piecer and enjoys hand embroider. There are precise directions with illustrations for piecing the Irish Chain, embroidery stitch instructions, and 15 full size patterns with color pictures for embroidery.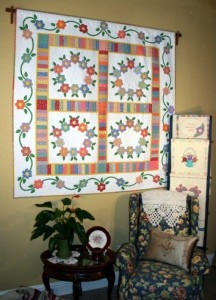 Ring Around the Posy – 62″ x 62″ – $12

This quilt can be a comfortable sofa quilt or add two more flower blocks with sashing and have a perfect fit for a double bed. Pattern also includes a package of 3/4″ hexagons for English Paper Piecing Technique.


Sing Praise – 24″ x 24″ – $8
This happy little bird makes a perfect gift to brighten a friend's day or to just enjoy yourself. This is such an easy, rewarding wall hanging to make whether by hand, fusible web or machine applique.

Stately Stars – 66″ x 66″ – $10
Perfect patriotic quilt. There are 5 different centers in the pattern. This design looks great done in school colors with school emblem in center, industry logo, or whatever your interest is. Express yourself with this pattern.
Strawberry Patch – 56″ x 68″ – $10
Totally template free piecing. Fast and fun. There is also a Christmas motif for border embroidery in pattern. Great scrappy red and green quilt (Or choose your color theme.)


Summer Star –  60″ x 60″ – $10
Stripped pieced Lone Star with fused applique in center and around the Star. Instead of applique, the design could be quilted.

Texas Redwork – 56″ x 56″ – $10
The title says it all. There are 12 blocks to stitch in redwork, plus scrappy 16 square patchwork, piano key scrappy border and appliqued stars in each corner.